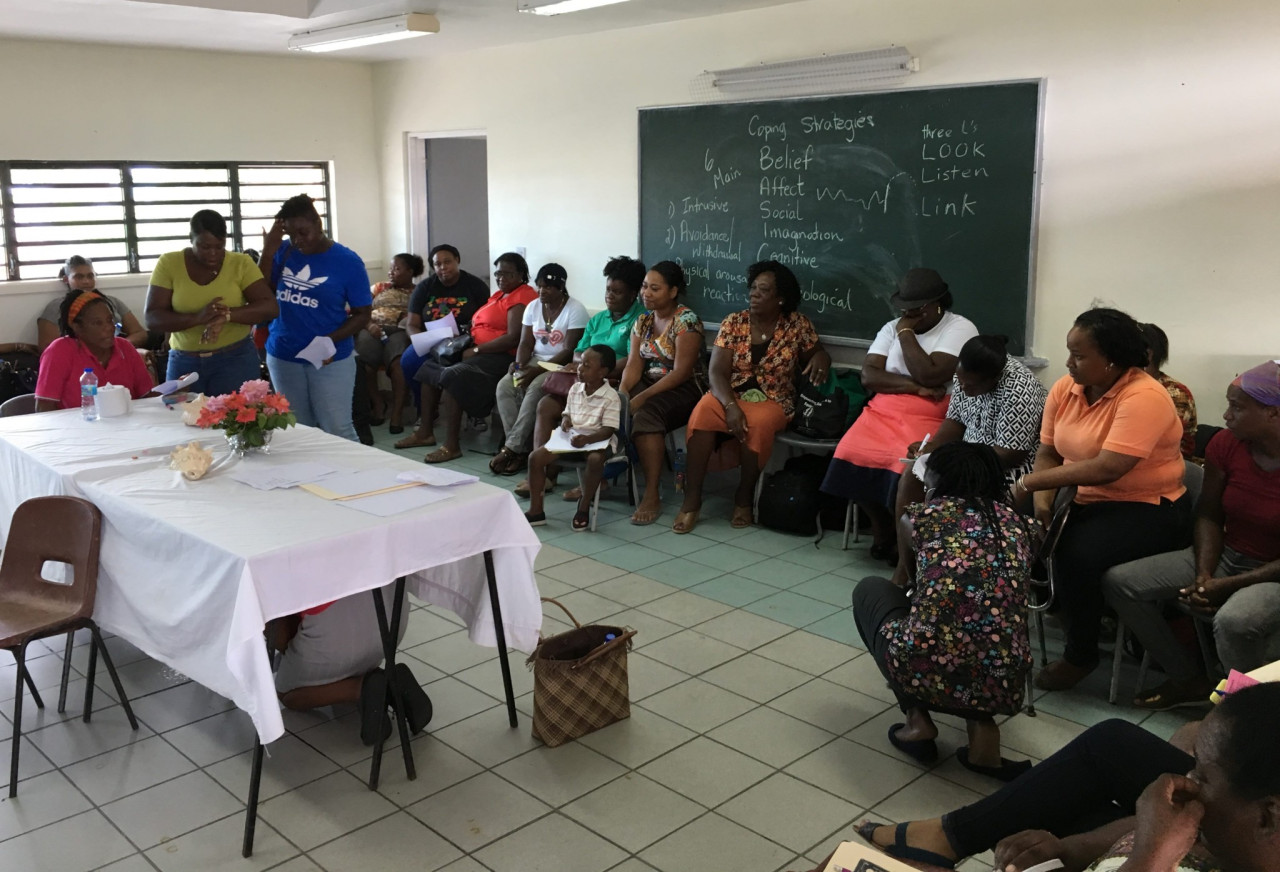 Dominica Week 3a
We continued working with the ministry of Education to host teacher training sessions in the North of Dominica. At the start of the week, we had 2 four-hour sessions from 9:30 to 1pm, targeting the last schools in the region. The training sessions created a forum where the teachers could feel comfortable sharing their experiences of what they went through during Hurricane Maria. They discussed their struggles with the slow recovery progress and the stress of school starting again whilst not having their own lives in order. We were able to help them focus on practical solutions for both their personal lives and for assisting the students during this recovery phase.
Our Rapid Response and K1 volunteers partnered again with IOM to visit shelters in the East of the island – mainly Marigot, to speak with each individual and family to assess the needs in order for them to return to their homes and find out what was a priority for them to return. We were able to help identify if their homes were in need of repair or complete rebuild, if they lacked food or water in their hometown, if there were any security issues on site etc.
Many of the schools are partly operating as shelters, and with school starting again it has become a needed focus to understand and plan to help families move out of the shelters and allow the schools to become fully operational.
IOM expressed their thankfulness for our volunteer's help throughout the weeks that we have been here and specifically mentioned how our volunteers didn't just do the minimum, but took on an initiative role in each of the tasks carried out.
A UNICEF representative expressed the need to train locals on the correct way to put up the many tarpaulins that had been distributed on the island. Many people were putting them up incorrectly and suffering from the rain during the many storms. The idea was to train a few local leaders in each of the towns to then assist others in the community with the correct installation, and they didn't know who to connect with in order to achieve this. In the previous week, we had been introduced to a local group of individuals who had taken a very active role in the northern region to procure aid and distribute directly to those who needed it and we were able to identify them as the best people to recommend for this task.
We were able to connect them to UNICEF – both parties were grateful for the connection as the locals had been attempting to assist others in the community with the installations of the tarpaulins, but had been struggling without the correct knowledge of how to do this.
Although it is not the longterm solution it is one that works for this interim period until proper building materials can be brought in.